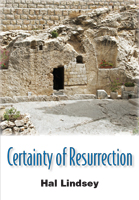 Product Details:
Hal Lindsey explains the absolute importance of the resurrection for each believer from God's word. He covers the following topics:
Imperative Chronology of the Resurrection
God's Prophetic Proofs of the Resurrection
Preaching of Resurrection Central to Apostolic Evangelism
Jesus' Last Seven Messages - So Much Is Said By So Little
Why Did Jesus Have To Be Bodily Raised From the Dead on the Third Day? Why Did Jesus Shout As He Died, "Paid In Full"?
This downloadable file has been optimized for iTunes. After purchasing the product you will receive an email with a download link. Please download the file to your main computer and sync to devices such as your iPad or iPhone.
For help with syncing your devices with iTunes:
https://support.apple.com/en-us/HT201253
Android users can find an app here:https://play.google.com/store/search?q=m4b%20player&c=apps
Audio downloads are non refundable.