News
Reporters' questions at the joint press conference following the meeting focused primarily on the election meddling issue. Critical security threats to the world, such as Iran and Syria, Islamic terrorism, and nuclear proliferation, are evidently of much lesser concern to President Trump's critics.
More Headlines
President Trump mentioned that his Russian counterpart "has an interesting idea" about the investigation into hacking the U.S. election.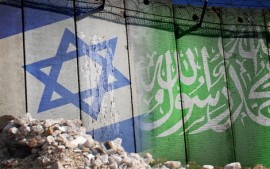 A cease-fire that ended a 24-hour round of fighting between Israel and Hamas appears to be in effect.
More Headlines
Hal Lindsey Scheduled Appearances
Upcoming TV Schedule
TBN
Friday - 9:00pm Eastern
Daystar
Sunday - 11:00pm Eastern